Tama Superstar Hyper-Drive Duo Drum Kit - Flat Black Vertical Stripe
Original price
$1,999.99
-
Original price
$1,999.99
Out of stock
Tama Superstar Hyper-Drive Duo Drum Kit - Flat Black Vertical Stripe
Tama's Superstar Hyper-Drive Duo is a unique and exciting series which will bring new value to the current drumming world. The key component of this series is the 14"x10" snare drum, which Tama aptly named the "Duo Snare". This drum is unique, not only because of its uncommon 14"x10" size and that it is cradled by floor tom legs. This drum can be tuned low and placed where the first floor tom would traditionally go. As such, the snare can function as a low/deep snare with the snare wires engaged, or as a traditional 14" floor tom with the snares off. Hence the "Duo" snare name. This drum's versatility can lead to many unique phrasing opportunities. The overall Superstar Hyper-Drive Duo kit sounds full and fat. Shells feature thin 6ply, 5mm (bass drum is 8ply, 7mm) 100% Maple shells for explosive sound with warm tone.
Features
100% Maple Shells
Tom Tom, Floor Tom & Snare Drum : 6ply, 5mm
Bass Drum : 8ply, 7mm

Our highest priority in producing the Superstar series of drums was sound. The full, powerful character and rich resonance of the Superstar drums were achieved by utilizing carefully selected maple shells and focusing intently on shell molding and the bearing edge shape.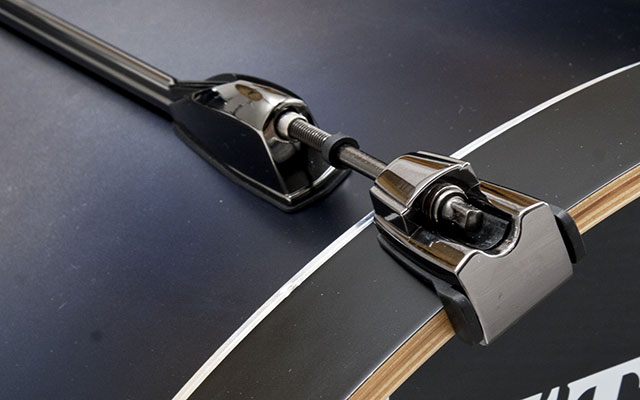 Claw Hook
These claw hooks stabilize the wood hoops on bass drums and feature built-in rubber lining which helps protect the wood and maintain tuning even during long performances. Also, the new rubber spacers help protect the die-cast zinc claw hooks and tension bolts from damage when the bass drum is placed on the ground.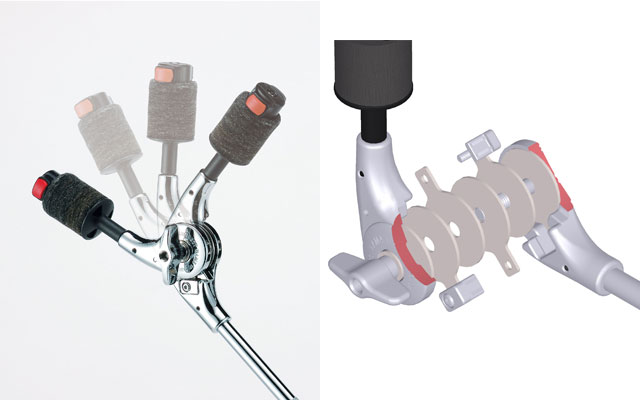 Quick-set Tilter (US. PAT.NO.7385127)
Superstar hardware kit features upgraded cymbal stands.The toothless "Quick-set" cymbal tilter lets you adjust the angle freely and hold it in position by the friction of six metal disc plates instead of gears. You're completely free to adjust it to any angle you desire. This mechanism also has a more durable structure than the conventional gear tilter.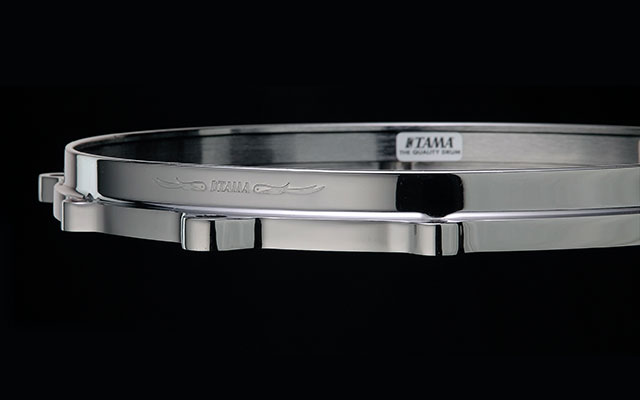 Die-Cast Hoops (Black Nickel Plated)
No other drum embodies pro features at an affordable price like Superstar.
In a first for this price range, Superstar is equipped with the same zinc die-cast hoops featured on Starclassic drums. Die-cast hoops not only make tuning easier and more consistent, they also provide crisp attack, clear and resonant highs, and much more powerful rim shots.
Black Nickel Shell Hardware
In Superstar Hyper-Drive, all shell hardware is finished in Black Nickel Plated. The beautiful looking produces a higher-grade sense of quality.
Star-Cast Mounting System
All Superstar rack toms are fitted with a Star-Cast Mounting System similar to Starclassic drums. This unique system offers total tom isolation and unhindered shell resonance without the adverse effect on tuning or complicated head changes found in less advanced suspension designs.
Hyper-Drive Toms
Hyper-Drive is the new standard depth size on tom toms. Its short depth creates enhanced attack, punchy sound, and quick response. And more it allows you to set up the rack toms in lower position. So, you can post the tom toms more freely.
Duo Snare
The Duo Snare is unique not only because of its uncommon 10" depth, but also because it is equipped with floor tom legs and brackets. You can tune this drum low and place it where the first floor tom would traditionally go. As such, the snare can function as a low/deep snare with the snare wires engaged, or as a 14" floor tom with the snares off. This can lead to many unique phrasing opportunities
Specifications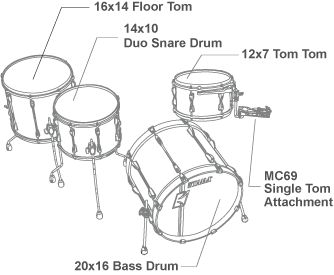 ML40HZBN2
: Superstar Hyper-Drive Duo (Lacquer Finish)
| Model No. | Description | Q'ty |
| --- | --- | --- |
| MLB20DZBN | 20"x16" Bass Drum | 1 |
| MLT12HBN | 12"x7" Floor Tom | 1 |
| MLF16ALBN | 16"x14" Floor Tom | 1 |
| MLS1410LBN | 14"x10" Duo Snare | 1 |
| MC69 | Single Tom Attachment | 1 |