TamaS.L.P. Dynamic Kapur - Gloss Black Kapur Burst
Save

$0.00
Save

$0.00
Original price
$2,599.99
-
Original price
$2,599.99
In stock
Tama S.L.P. Drum Kit Dynamic Kapur - Gloss Black Kapur Burst
This model features Kapur material, which has caught many drummers' attention for its open lively sound with great projection. We paired it with our Sound Arc Hoops for plenty of attack and moderately controlled overtones of the Kapur shells. It offers warm resonance and a very natural, comfortable feel. Because of its articulate sound and enhanced attack, it works very well for funk, fusion and gospel. The high volume potential also lends itself perfectly to rock music.
Features
Sliding Tom Adjustment
This tom-holder expands setting flexibility by using a sliding connector unit that moves back and forth up to 50mm (2 inches). Now a player simply loosens a bolt in order to easily adjust the proximity of any size toms, large or small!

This allows the player to set any size tom toms to their desired proximity with great ease!
Star-Mount System
The Star-Mount System was developed to increase the resonance of drums. This new mounting system provides support at four points on the batter side hoop of a drum.
The bracket eye-bolts slide to the left and right, so it's possible to prevent the eye-bolts from touching each other even when setting up two toms close to each other.
Evans G1 Coated Head
Evans heads are featured on Dynamic Kapur drum kit (except bass drum front heads).
Hyper-Drive Toms
Hyper-Drive is the new standard depth size on tom toms. Its short depth creates enhanced attack, punchy sound, and quick response. And more it allows you to set up the rack toms in lower position. So, you can post the tom toms more freely.
All Kapur Shell
(TT/FT) 6ply, 5mm / (BD) 7ply, 6mm
Kapur is relatively heavy and hard wood that provides a fat, dry and warm sound. This well-balanced sound is suitable for various genres of music.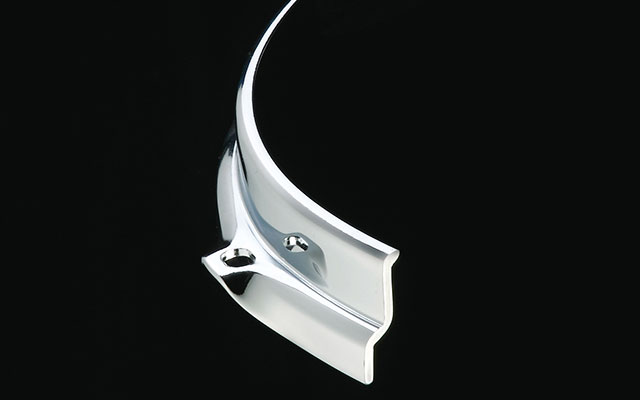 Sound Arc Hoop
S.L.P. drum kit Dynamic kapur will be fitted with our new Sound Arc Hoops, inspired by the so-called "stick saver hoops" which were used on select vintage snare drums. The edges of the Sound Arc Hoops bend inward to enhance the natural tone of the drum and offer increased sensitivity, precision, and control.
Specifications
LKP42HTS
| Description | Q'ty |
| --- | --- |
| 22"x16" Bass Drum | 1 |
| 10"x6.5" Tom Tom | 1 |
| 12"x7" Tom Tom | 1 |
| 16"x14" Floor Tom | 1 |
| Double Tom Holder | 1 |